How to choose a laptop? By brand or by function or by size?
Laptops come in many sizes. People choose laptops depending on the purpose. Children prefer small sleek laptops with screen sizes 11 to 13 inches. Professionals with office work prefer 14 inch laptops, gamer and graphic lovers prefer 15 inch laptops. Few choose higher screen size like 17 and 18 inches.
I was going through my amazon affiliate reports and found someone purchased a 15″ laptop through my link. Happy. I got commission. But my quest started to understand why they choose a 15″ laptop? Is it because 15″ is better than other sizes? I thought it will help my readers to give information on laptop sizes and the plus and minus of them. I searched the google and found some amazing observations.
Keshav Damani from Quora, the question and answer website from America, said that he prefers a 14 inch laptop. His review says both 14 inch and 15 inch does not have any difference in picture quality in spite of the big screen. Performance is same and price is high for 15 inch. He further says 14″ is less heavy and easy to carry and more travel friendly. he preferred a 14 inch.
Nitin Jadhav, BE Computers, Savitribai Phule Pune University on the other hand prefers a 15 inch Laptop because he works on graphic designs and big screen is always good for continuous work.
So the decision is purely a personal choice not on narrow difference in models. It is nothing to do with model of the laptop. I am not happy with this conclusion. I digged more deep into this subject and my observations are as under.
PC mag says: According to a study by NPD laptop sales in 2016, in US alone 68.1% of laptops are of 15″ screen size. It sounds crazy. Even though 15 inch laptops are heavier than 14 inch and other technical features remain same, why so many 15 inch laptops are sold during that period. It is because the tendency of a buyer is to read reviews and evaluate technical info and choose a product. During that period many people opted for 15 inch because of this reason. The reviews might have played a prominent role.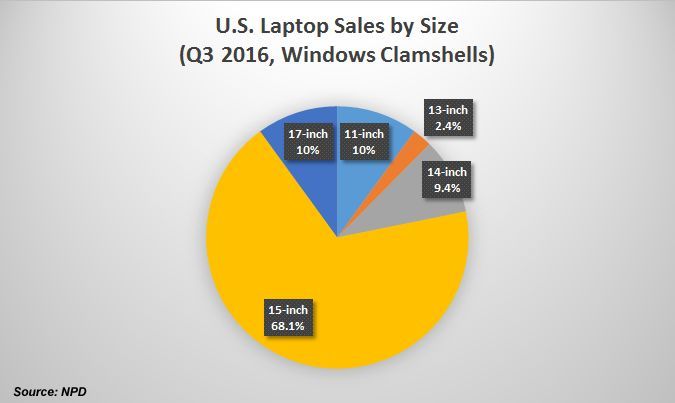 Technical and visible differences between 14″ and 15″ laptops
Sometimes screen size is deceptive. Bezels around the laptop misguides the size factor.
The bezels around the laptop deceives the laptop size. If the bezel is thick the laptop looks bigger. Resolution is what matters. Sharpness of picture matter. Standard resolution for any screen should be 1920 x 1080 (also known as 1080p or FHD) display. Some laptops come with 1366 x 768 displays. High-end laptops come with a resolution of 2560×1600 (WQXGA), somewhere between Full HD and 4K. So watch out for the difference.
Look at the picture below. There is a clear visual disturbance in the right side picture with 720p resolution. Is it not?
Narrow differences between 14 and 15 inch laptops
Weight: 1.5 to 2kg
Screen Resolution: Ideal screen resolution for a 14-inch laptop is 1600 x 900 PPI
Compact keyboard without waste space on both sides
Fits into smaller carry bag and useful for longer journeys.
Multi tasking features like browsing, emails, basic coding apps.
weight: 2 to 2.5kg
It is a compact desktop not a notebook
Multi tasking features like more than 10 browser screens at a time. Other multitasking features are enabled
The best laptop screen resolution for a 15.6-inch display is 1920 x 1080-pixels, or Full High-Definition (FHD)
Technically there is no difference between 14 inch and 15 inch laptops.Only difference is size, weight and budget. Choice is buyers interest.
There are many sizes of laptops in the market. There are many brands too. The sizes are
Laptop sizes starts with 11 inch and ends with 18 inch. These sizes are targeted different sections of people with different capabilities and budgets. The usage and purpose of these laptops differ
11 inch laptops are good for children. Children are no exceptions to elders in using laptops for their daily school work apart from entertainment. Today children can not go to regular schools because of COVID pandemic dangers. COVID had a greater impact on children's emotional behaviour while being idle at home. Online education and online schooling is the only way to keep them engaged. With this new schooling classes Laptops became very important for kids.
These small size laptops are manufactured with special care on material with protective coating, slip resistance and size suitable to children.The laptop cases are made with protective foam called EVA. the shock proof material. The laptop itself is made with protective coating with water and dust resistant. They also take care to manufacture these laptop designs with slip resistant. Size is most important when children use laptops. Check for Ergonomics of the keyboard and touchpad for the children.
Health related issues with laptops and in general with computers:
Medical researches and medical experts confirmed beyond doubt that use of computers for longer period. The machine may be a desktop, or small computers can cause health disorders. Both manufacturers and users contribute to this health problems.
Wrist: Wist is the first affected area while using computers. Most of the laptop work goes with wrist. Using computers for a long time will result in Carpal tunnel syndrome (CTS). CTS symptoms include numbness of fingers, pain on the side of the hand.
Neck and spine: The most affected part in the body while using laptops is neck and spine. Science daily says computers can be real pain to the neck.
fertility issues: "We did find that scrotal temperature increased, and it increased significantly, in the men using laptop computers in the laptop position," Dr. Sheynkin told USA TODAY. "The laptop computer potentially may impact fertility by increasing scrotal temperature." Source: USA Today
Other details to consider while choosing a laptop:
Technical details takes first priority. Choose a laptop with 4 GB RAM for multi tasking, 500 GB HDD. Choose a 14 inch screen size with IPS for viewing all angles. IPS stands for in plane switching,. More about IPS at IPS – Wikipedia. Check the battery. The battery should work for minimum of 8 hours. Go for CPU i5 and above with windows 10 preinstalled. This is the basic configuration of the laptops for a good start.
Which brand of Laptop to choose?
Now that this topic detailed information on screen size and selection of keyboard and mouse, I should decide on the brand. There are many brands floating around for laptops, and each one of them have their positive and negative aspects, it is difficult to decide on the brand. But the thumb rule is choose a brand which popular by reviews from authority sources. Select a brand by it sale record and support. Of Course price tag counts while choosing a brand. Popular brands are
in the order mentioned above by statista. This company is into market research and provide marketing and consumer data. The company is established in Germany.
To Sum up the observations:
To conclude the article with my observations is size dies not matter to choose a laptop for elders. Children have a separate screen size starting from 11″. The laptops for children have different design keeping in mind their security and age. It is proffered a 14 inch laptops for professionals, 15 " for gamers and graphic designers. The most sold laptops from 2015 to 2020 is 15″ and the chosen brand is HP. Choose a brand with with minimum i3 core, 4 GB ram, 500 GB hard disk and monitor with 1920 x 1080 pixels or more.
[wptb id=1116]
Useful Resources:
https://gigabytekingdom.com/laptop-screen-resolution/
https://www.cnet.com/news/why-you-should-consider-a-14-inch-laptop/
https://www.thecoreitech.com/what-are-the-standard-laptop-sizes/
https://gizbuyerguide.com/average-laptop-screen-size-with-6-examples/
https://hggear.com/blogs/news/guide-to-introducing-kids-to-laptops
https://www.familyeducation.com/the-8-best-laptops-for-kids-in-2020
https://uhs.princeton.edu/health-resources/ergonomics-computer-use#:~:text=In%20CTS%2C%20repeated%20bending%20or,inside%20of%20the%20ring%20finger.